Interior Designers
Interior Designers
AenZay has one of the best interior designers in Lahore or all over Pakistan. With 11 years of excellence in the fields of interior architecture, architectural design, construction, and layout. Our professional team works so hard with passion to provide first-class architecture and interior design services in Lahore and other major cities in Pakistan. Likewise, we have a dedicated team of interior designers in Lahore. We serve the best Interior Design services to transform your home into the home of your dreams.
Why AenZay has one of the Best Interior Designers?
AenZay has the best interior designers. Designing a house or an office is not an easy thing. You need to hire an interior designer to do this job. Everyone wants their sweet home to be wonderful and beautiful. So, they can feel good and comfortable at home. Designing a house or an office is a really fun activity. It also helps us showcase the beauty of our place. Basically, a house is a place where everyone has the right to live. comfortably and serenely.
Top Listed Interior Designers in Pakistan:
AenZay interior and architect is on the list of top interior designers in Lahore and Pakistan. We have handsome experience in building modern and smart interior design projects all over Pakistan. As one of the best and one of the most famous interior designers, AenZay is here to serve your needs. The first consultation is free in AenZay, that's why our clients consider us the best interior design service provider in Pakistan. After a good discussion, we will establish a budget and a compensation agreement that reflects the interior design project. During the project, we prefer to understand our client's vision to successfully execute a space that reflects their individuality. The value of the evolving interior design experience is worth more than anything else in this field. Because it allows us to retain our clients as the best interior designers. We have a number of loyal customers who come back and recommend us.
Get Trendy Look from AenZay's Interior Designers:
Sometimes it is really hard for you to decide which look you want to give your space. Similarly, it is also very difficult to choose the best element that will look perfect with the theme. For this need to hire the best interior designer from AenZay. We offer Interior Design services with the best materials for interior and exterior. This helps the customer to decorate their space in a modern and unique way. Our team's dedication and continuous efforts to make interior design a rewarding experience have earned us the reputation of Pakistan's best interior design company. Whether it's a single room, an entire residence, or a commercial building, we work closely with our clients to understand their tastes and functional needs.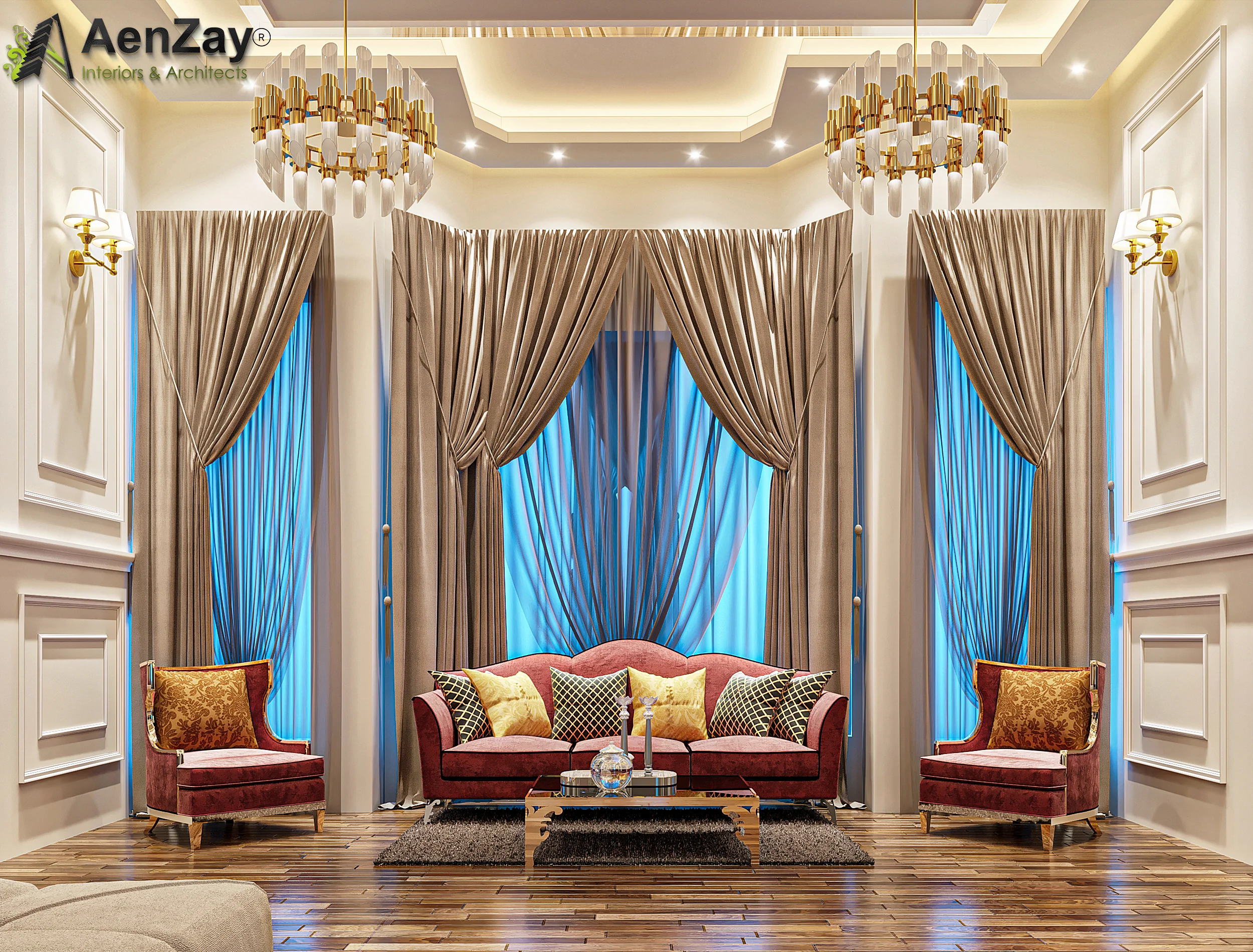 Innovative interior design services:
Big spaces aren't always necessary to make your home more beautiful and interesting, but even the smallest spaces are often creatively designed and manage to look well-organized and enjoyable. Interior designers of AenZay in Lahore or all over Pakistan provide the most suitable architecture and interior design services to make the space well organized and beautiful with furniture and design elements in suitable places. The best interior designers provide the complete interior look to their clients before they even start the work with sketches, drawings, and presentations.